According to a study by Ernst & Young, 94% of women in senior positions played sports at some point in their lives and over half of them played at university level. Michigan State University research also showed that women that are involved in playing sports are more likely to graduate from college, find a prominent career path, and get employed in any industry regardless of how "male-dominant" it is.
Today, millennials need to understand the impact of how valuable physical exercise is, and how getting by in sports will reap benefits of great work ethics, determination, perseverance and tenacity to attain success, not to mention the health gains. Sports activities can significantly provide women a platform to break gender stereotypes, empower them within their communities and contribute to their overall innovative development. And that is what the UAE is pushing towards perfecting.
In the past 8 years, we've seen the rise of women's participation in sports across the Middle East and more specifically the UAE. A great example is The International Conference of Sports for Women (ICSW), an initiative by the Fatima bint Mubarak Ladies Sport Academy (FBMA), which has gained global recognition for encouraging sports as a part of women's lives in the UAE while providing an excellent platform for advancing the cause of global women's sports debates and discussions.
Now more than ever, women epitomise a leading role in the development of the UAE and what they can do in any field whether it's government, policy, law or media once given the opportunity.
UAE's Most Inspiring Women
The fourth edition of the International Conference of Sports for Women was recently held in Abu Dhabi including participation of elite sports stars and a diverse line-up of speakers from across the globe.
Another sensational experience has bestowed on the young generation with the return of its fourth edition, the FBMA Trophy for Figure Skating.
The event reintroduces fans to the world of figure skating, a world class performance and unique world class event for the masses here in the region. Figure skating has been featured at Zayed Sports City Ice Rink for more than 10 years. When you hear about the gravitas the academy has provided over that period you'd understand, this by itself was an accolade. Helping aspiring athletes and develop teams to prepare local and international opportunities throughout the year.
The international figure skating competition is considered the first of its kind in the Middle East and has successfully attracted over 91 competitors from 23 different countries including: Australia, Russia, Canada, France, Austria, Hong Kong, Kazakhstan, Estonia, Finland, Chinese Taipei, Czech Republic, Greece, Indonesia,  Lithuania, Malaysia, Netherlands, Poland, Slovenia, South Africa, Singapore, Switzerland and Thailand.
Inspirational Youth

Working towards its goal of nurturing the young generation of talent, the International Conference included several stellar female athletes to share their journey and the struggles they had to overcome that is sure to inspire young minds and encourage them as well as instill confidence (like Nike's What will they say about you? #justdoit campaign).
Some of the women sports personalities who shared their stories include the Olympic medalist Michelle Kwan, Olympic swimmer Samar Nassar, the international chess player Tania Sachdev, Amal Murad, the first Emirati parkour instructor, among many others. A wide array of topics discussed including the creation of sports leaders and the opportunities and challenges across generations all impart a wealth of knowledge to inspire the young generation to pursue their dreams and conquer new heights in the sports activities of their choice.
Such events will aid in building awareness while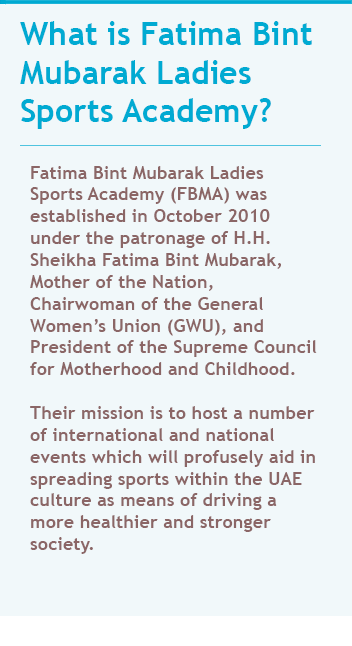 providing the vital learning curves through an open exchange between the Emirati and the international sports industry.
A lot of Emirati women showed interest in sports as a result, even in areas that were earlier viewed as male dominated activities such as ice hockey over the last decade.
Houriya Al Tahri is an Emirati from Dubai, coaching the senior women's national football team who has been successful in breaking barriers to become an excellent role model for the younger generation as it focuses on empowering women towards a great social cohesion and shifting the paradigm.
These great initiatives are but a few of the many opportunities to spot the young talent at schools and help nurture it at an early stage.